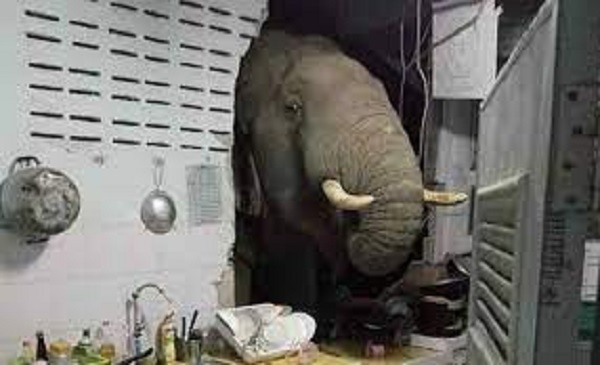 A woman in Thailand found an unexpected visitor in her house in the middle of the night — a wild Asian elephant.
The destruction of forests and wild animals' natural habitats is leading to severe consequences and some of them might be irreversible. More and more animals have left the forests, as their place to live was destroyed by humans and are looking for shelter in cities.
This can, of course, pose serious threats to both humans and wild animals, and this story from Thailand is only one such example.
A woman from the Hua Hin district in western Prachuap Khiri Khan province had a surprise visit one night when a wild elephant entered her home. Ratchadawan Puengprasoppon was awakened by the wild animal in the middle of the night and when she went downstairs to check the noise, she found the elephant entering her kitchen. The wall of her house had a previous hole in it when another elephant tried to pay her a visit in the previous month. This shows that such encounters are starting to become more common in areas where mass deforestation has been threatening the habitats of wild animals.
If governments do not start taking more severe actions, towards protecting the environment and reducing climate change, the lives of humans and wild animals are both at high risk.