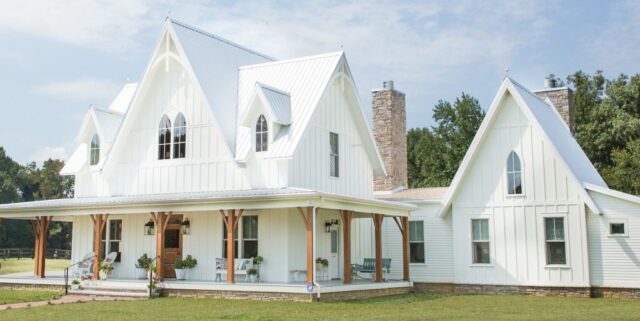 When someone says they live in a farmhouse, the tendency is to imagine a classical or rustic design. But what about someone mentioning a gothic-style farmhouse? This is a unique home design style, invented by Jeff and Sherrie Harris and their home even appeared in the April/May edition of American Farmhouse magazine.
The house is surrounded by beautiful scenery, but once approaching it, one cannot notice the outstanding tin roof design which gives the overall gothic look. The home spreads across 3,800 square-foot and is furnished with the most amazing and unique furniture, completing the farmhouse feels.
The Harrises are collectors of antiquities and peculiar items, and the house is filled with them, one more amazing than the other. It took the couple 4 years to gather every item they wanted to include in the interior design, but the wait was worth it.
They found the perfect architect to recreate their vision in the person of Preston Shea of P. Shea Design from Franklin, Tennessee who built their dream home in a year.
The Harrises also own five horses that roam freely across the land surrounding their gothic farmhouse, truly completing this idyllic picture.
Jeff's office — one of his other favorite rooms in the house — includes a wooden ceiling, a refinished double-sided partner desk from decades past, and a decorative corner display that holds some of Jeff's childhood lunch boxes.