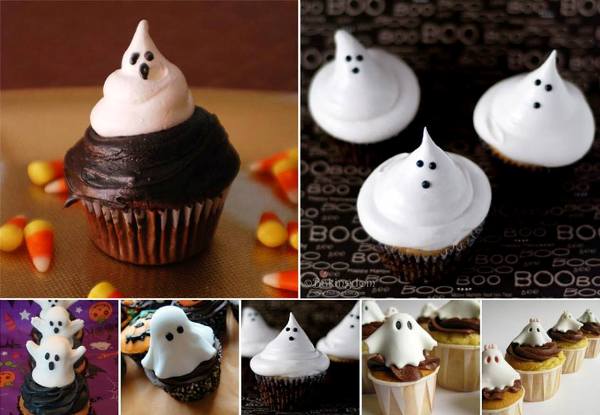 Here is a great a great and spooky recipe for this year's Halloween: ghost cupcakes. You will need: 18 medium cupcakes, one 16 ounce box of chocolate frosting, cornstarch, one 1-lb, 8-oz package white fondant, 18 sphere lollipops, one tube of black decorating icing.
Firstly you will need to frost the cupcakes and let them dry. Then dust the work space with cornstarch and and roll the fondant about 18 1″ and a half rounds and 18 4″ rounds by using a cookie cutter. Put these together and if it is necessary roll them again. Take the lollipops and insert their sticks into Styrofoam. For this you can also try to use a potato. Place the fondant rounds around the lollipop, first the small, then the larger one, this way creating the shape of a ghost. Repeat this step until all the lollipops are done. Put a ghost in the middle of each cupcake by inserting the stick of the lollipop. Put some black eyes on each and your cute ghost is done.
Your guests at this year's Halloween party will surely appreciate this cute dessert.