Having a garden is really great, especially when the weather is fine and you can sit outside and relax. If you feel there is something missing in your garden, then here is a great tip for you: build a handmade flowerpot which is also a bird-feeder. This way your garden will be filled with birdsong and you also will be making a good deed for those little birds. To make the bird feeder you can use materials that you already have. You will need:
• a terracotta flower pot and two saucers (the ideal would be a pot that already has some drilled holes for the seeds);
• drill bits (glass and tie);
• a wire rope (vinyl coated, 3/32″);
• ferrule and stop set (1/8″);
• some pliers;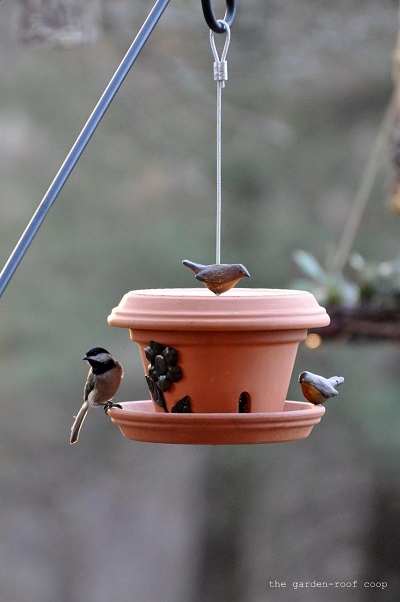 First of all you will have to drill the holes in the saucers, if they don't already have some. Make the wholes 1/8″ and add some holes for drainage in the bottom saucer too. Pull the rope through the top saucer, the flower pot and the saucer on the bottom. Use the pliers to make the wire stay in place. Fill the bird feeder with seeds and fruits. You can also add some extra touches and decorations to the outside. All you have to do now is wait for the little birds to come to you feeder and enjoy a nice afternoon in their company.
source: thegardenroofcoop.com