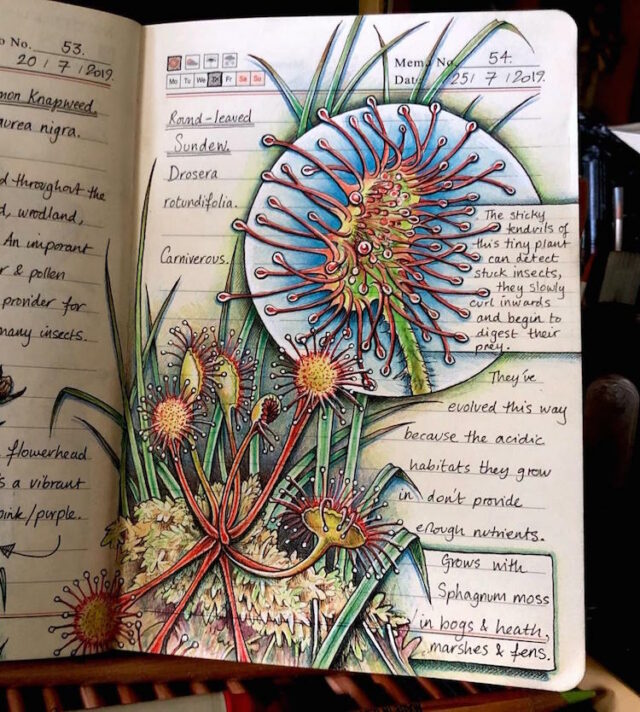 Nature can offer so many, from resources to peace of mind and even artistic inspiration, and illustrator Jo Brown agrees with the latter. She is a UK-based artist who documents her outdoor explorations in the colorful Nature Journals collection.
Brown fills notebooks with stunning plant and animal drawings accompanied by notes of her findings, just like a true botanist would do. Her drawings are filled with vibrant colors, making them pop out from the pages of the notebook and the works are the result of many hours spent outdoors observing the environment.
According to Brown, nature plays an important role in her life, and documenting the state of it and capturing the transformations around her and the passing of time is what makes these works special.
By using fine-nib and colored pencils, she breathes life into her illustrations and recreates the surroundings in a realistic style, resembling scientific drawings. Brown also includes lots of close-up drawings, which also make her work appealing for children and can be used for educational purposes.
Her work is on display on her Instagram account and print can be purchased from her Society6 online shop.
Watch this video to see more pages from Brown's Nature Journal:
My #naturejournal so far pic.twitter.com/GY0PTrmw1b

— Bernoid (@bernoid) April 26, 2019
Jo Brown: Website