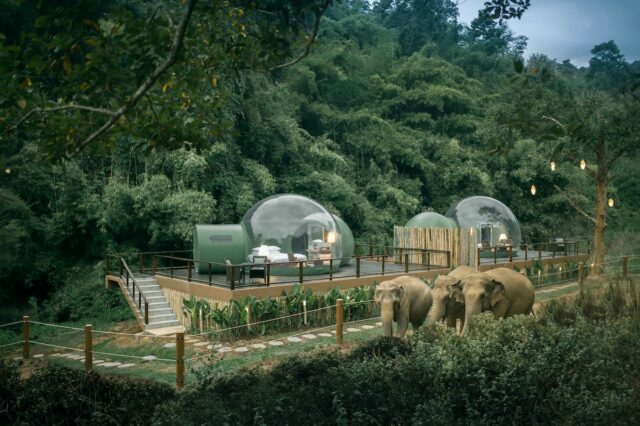 This magical place can be found in Thailand and is called a "Jungle Bubble" where you can spend a night among rescue baby elephants.
The place is called Anantara Golden Triangle Elephant Camp & Resort and offers an out of this world experience while enjoying a luxurious stay.
The camp can be found in an area that is densely populated by elephants and thanks to the classy sleeping bubbles, you can see the elephants walking around in their natural habitat. All the "Jungle Bubbles" are equipped with air conditioning, a king-size bed, a living area, and a non-transparent bathroom and are the ingenious creations of Eye in the Sky. Dinner is provided by the resort's staff and it comes in the form of a fancy basket that is dropped off every evening.
All the 60 elephants living in this glamorous resort have been rescued from the streets of Thailand and taken to be cared for by the specialized staff.
The property can also organize a walking tour for its guests, which is called Walking with Giants during which a vet or a biologist will present insights about the lives of the elephants living there.
The cost of spending one night in these amazing "Jungle Bubbles" is $585 for 2 persons and the room can be booked right away.
More ideas: