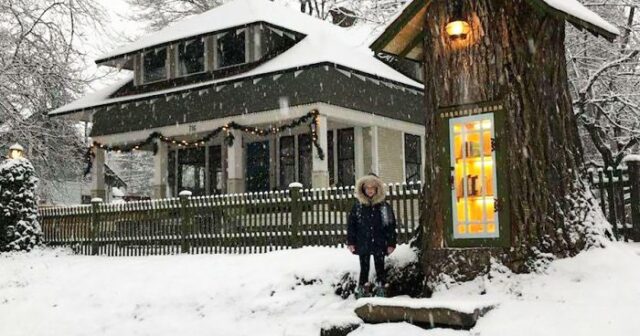 Turning a 110-year-old tree into a library? Sound like an amazing idea! Sharalee Armitage Howard is a librarian who works at the Coeur d'Alene Public Library in Idaho and had a very inspiring idea.
Her yard was home to an old cottonwood tree that started to slowly rot away and had to be cut down. So she decided to transform the remaining trunk into the most amazing tiny free library out there.
Howard named it the Little Free Library and it is a place for people to take and also leave unwanted books for others to be borrowed. Little Free Library is a nonprofit, which was created with love towards books and reading, and it aims to encourage everyone to pick up a book and engage others in reading too.
There are more than 75,000 people registered worldwide into the community and Little Free Libraries are present in 88 countries around the world. Each of these tiny libraries has its charm, and the one in Idaho is no exception. The library designed by Howard has stone steps, a glass door, and a very welcoming interior, with cozy lights and a wooden bookshelf.
If you can't make it to this Little Free Library in Idaho, simply visit the nonprofit's website and search the nearest one to you to shart your book exchange adventure.
Get a closer look at "Little Tree Library" in this video created by local news station KREM.