People will go to grate lengths to design an interesting interior, the kind that will leave you speechless. Architect Alexander Tsimailo managed to deliver this effect with this Russian residence. In that part of the world, he is seen as a `European` oriented mindset when it comes to architecture, developing a fruitful relationship with the clients, even to the extent that the very reason for building a house is purely aesthetic. The clients in this case were a couple with two children. And the residence fulfilled their every need.
With a fantastic view of the Moskva River and peaceful meadows along its banks, the home has three floors and a basement. An error of the builders made the first floor eighty centimeters above the design so the house `popped` out of the earth, making it more special in the landscape. A good thing came out of this though: the views became better. Structurally, the house is a concrete frame filled and lined with brick, with some color added to the facade by Tsimailo.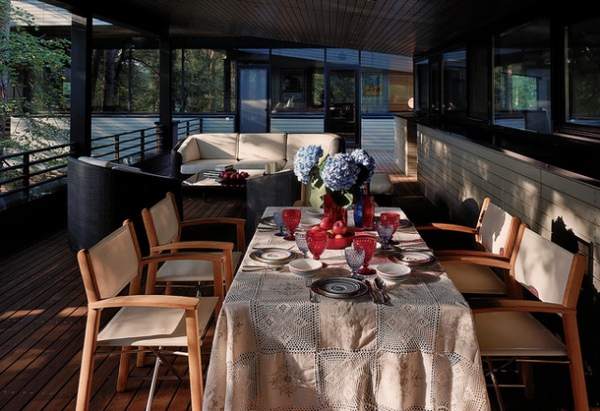 The most noticeable part of the interior is the spiral staircase in the living room. The twisted ladder captures all the attention of inhabitants and guests alike. The important piece of design looks spectacular on the background of the library, which was located on the first level living room, and on the mezzanine, on which the clients requested existed. The close relationship between the architect and the client resulted in clear design ideas and a nice selection of furniture. All the elements needed to make a luxurious innovative home in Russia.