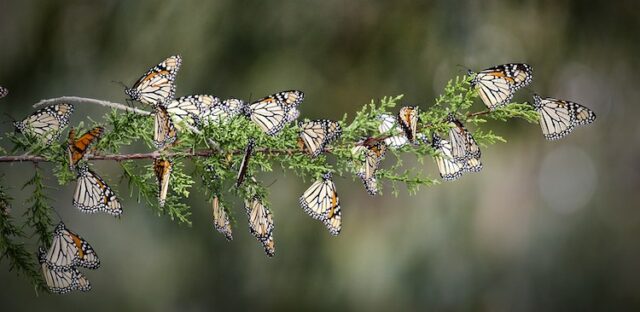 Monarch butterflies can be easily identified thanks to their wing pattern, but they also seem to be making the most peculiar sound when drawn together. In winter, monarch butterflies go on a mass migration journey to Mexico and California and Phil Torres from the Jungle Diaries managed to record them.
He launched a question to himself, asking "How many butterflies does it take to make a noise in the woods?". Well, Torres found out that the answer is several million that flap their wings altogether in a large bundle.
This wing flap creates a unique sound that Torres managed to capture in a Mexican forest and later shared with the world. The moment in which all the butterflies take flight was called a "waterfall" by Torres as it resembles the smooth sound of water.
Unfortunately, the monarch butterfly entered the list of the endangered species, as its population dropped down by 26% since last year and they are facing constant threats from climate change, pesticides, and pollution coming from big cities.
To hear one of the most peculiar sounds ever recorded from the animal kingdom, make sure to watch Torres' video.
Photo: MjolnirPants via Wikimedia Commons (CC BY-SA 4.0 International)
Watch (and listen closely) as these monarch butterflies take flight!