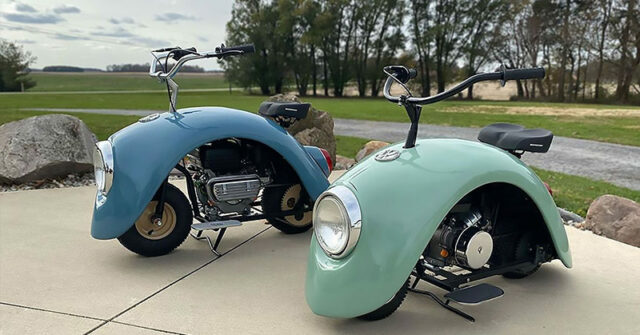 Everyone's all-time favorite, the Volkswagen Beetle has been repurposed by a creative builder into a something called a "Volkspod".
Brent Walter, who identifies himself as a "maker and builder of a variety of things" reimagined the iconic car in the form of an old-fashioned mini bike. His current job is in the sector of medical equipment manufacturing, but his passion for DIY projects and vintage items is what powered this project.
According to Brent, he wanted a scooter that he can take to VW shows so he decided to make the "Volkspod" by welding together fenders from the corners of old VW Beetles.
His invention has wide handlebars, specific to bicycles, and is powered by a 3 horsepower engine. It can also speed up to 25 miles per hour.
The coolest part of the mini scooter is the front that features the iconic Volkswagen's crest and it comes in the colors of the original car, birch green, and pastel blue.
If you want to know more about this awesome scooters, head to Brent's Instagram page and send him a message to ask if they are available to purchase.