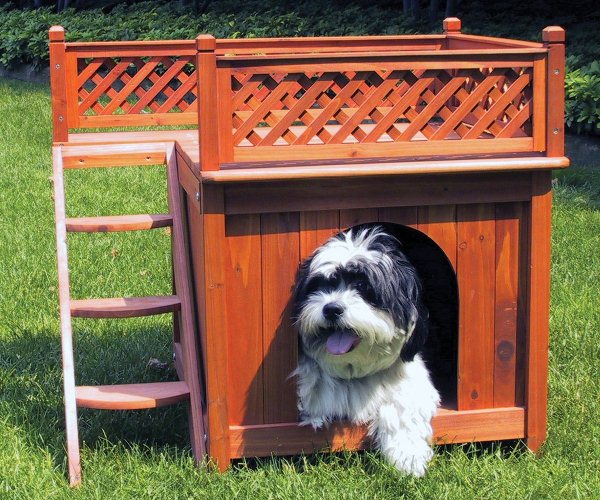 Your dog is truly your best friend only if you care for it so much that you build him a terrace on top of his little doghouse. You can build one from scratch, but that involves knowing your way around with wood. Instead of rolling up your sleeves to nail and carve a unique doghouse for your smaller special friend, have a look at this cute Room With a View model. Designed for average to small size dogs, this is a perfect addition to your yard.
The builders put a flight of stairs along one of the sides, which take your four-legged buddy to a wonderful roof-top balcony. The architecture and wooden materials used are also suitable for indoors, giving your pet the freedom to enjoy some comfort without being confined in a small area. It can fell the warm weather from its own lounge area as well as hide effectively from the rain, as the raised bottom and stable cellular wood structure keeps the pet dry and safe from extreme temperatures.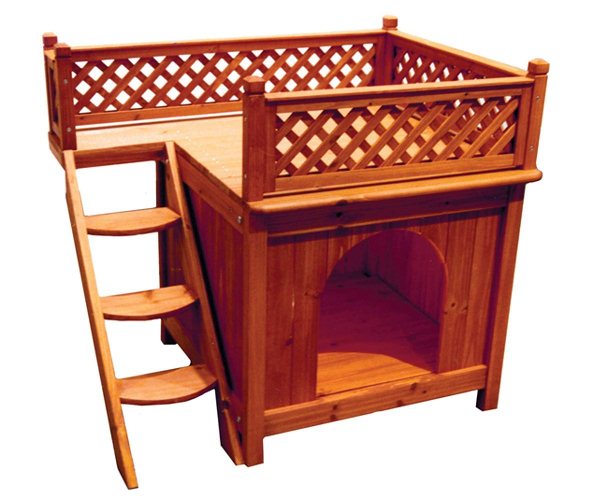 Oh, you don't like dogs? Use it for your cats instead. They will love it to the fullest extend possible! Either way, the assembly time is about approximately 20 minutes with the help of only a screwdriver. The removable panels from the bottom as well as the roof top are easy to handle and cleaned. At a cost of 66 $ this is a real treat for your pet and yourself. Check the link below for more info..