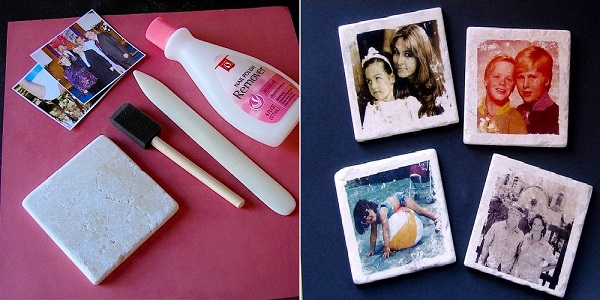 There comes a time when you have a brilliant decorating idea but don't have the courage to try it in your home. This tutorial will show you that you shouldn't worry and follow you instincts, especially if it involves a DIY project. Turning tiles into photo coasters is a kind of handmade project whichwill make you fall in love with DIY projects. Here is what you need to do and have:
• uncoated 4 inches tile(s);
• fingernail polish remover;
• a Bone folder;
• a foam brush (get 2 or three if you're doing a lot);
• colored copies from Kinkos;
• scissors;
• a sheet of clear acetate;
• a pair of cheap latex gloves;
• a tile sealer;
First of all, you need to know ink jet prints don't work that well when transferred on tiles, so it's recommended you use colored copies from Kinkos to print the photos on. Then, put the tiles in the microwave and heat it a bit before working on the transfer. Make sure the photo is fitted to the size of your tile and place it picture-down on it. Brush nail polish remover on the back side. Don't move the picture from its place! Take the sheet of acetate and stick it over the picture and use the bone folder to rub the whole surface with patience. Check slowly if the ink was transferred by slowly lifting the corners. Now, temporarily remove the sheet and apply more nail polish remover and then continue to use the bone folder. Apply a couple of coats of the tile sealer. The image doesn't transfer perfectly (or entirely), but this will give the entire coaster a nice effect.
source: dubuhdudesigns.typepad.com