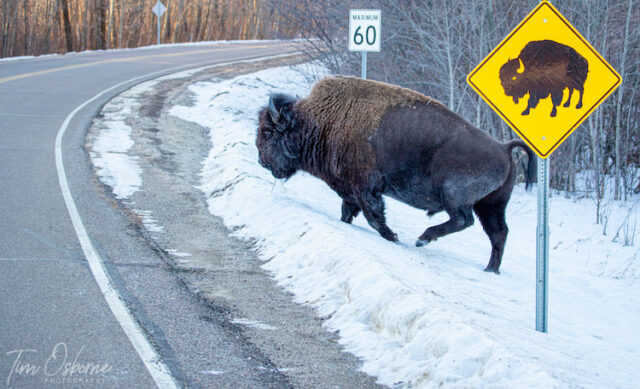 Sometimes timing is all you need to capture the perfect picture, and this next work is proof of this. Tim Osborne is a Candian wildlife photographer who happened to be in the right place, at the right time when he took a picture of a bison crossing the road.
When Osborne drove to the Elk Island National Park, he saw something that made him take out his camera in an instant and capture it for posterity. It was a bison crossing the road in the funniest spot, as he was crossing near while passing by a sign that signaled "Bison crossing" and kept the drivers alert in case the animal appears.
Osborne joked that the park did a great job in training the bison about where to cross the road and he posted the photo on Twitter where he got a lot of reactions and appreciation. The picture was captured from a safe distance, so both the photographer and the bison felt safe and made Internet sensation thanks to its funny input.
Tim Osborne Photography: Website 
How to Take Good Photos of Nature
Nature photography is a fun and fulfilling hobby, but it can sometimes be difficult to capture great images. If you want to improve the quality of the nature photos you take, start by composing a great scene to photograph. Douglass Owen shares his expertise as a nature photographer, teacher, and ranger for the National Park Service. In this guide, readers everywhere can take advantage of the same training and master the field craft that enables top photographers to great wildlife shots―even with modest gear. In fact, Doug's approach actually favors those with simple equipment that frees them to concentrate on the subject and environment rather than fiddling with complex camera settings!