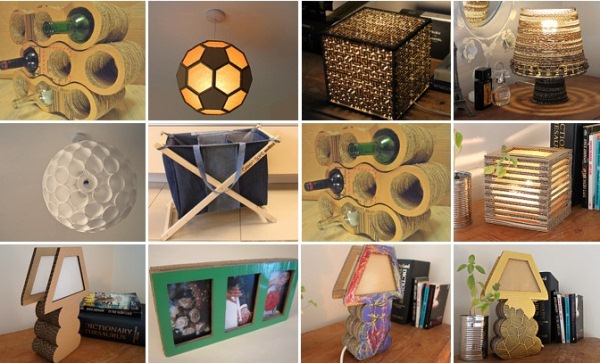 Green Spirit Creations was founded in 2012 by sister and brother as a school project, which idea was to recycle all the cardboard retail companies threw away. The company gradually developed into aspiring young designers' community, which invited youth to share their ecologic design ideas and even try to sell them worldwide. All creations are made with an idea, that recycled goods can be the same or even better quality compared to ones that are made from raw materials. All of the designing, marketing and production work is done by young people who want to prove their skills and test themselves in a global scale competition.
"We try to take as much as possible recyclable waste from local businesses and manufacturers to use for recycling. In that way we can get a lot of different materials to play with and thoroughly test exciting and unseen design ideas. On the other hand we also create a great free tool to collect all unusable materials and recycle them in a different and more sustainable way." Justas Butkus (Founder of Green Spirit Creations)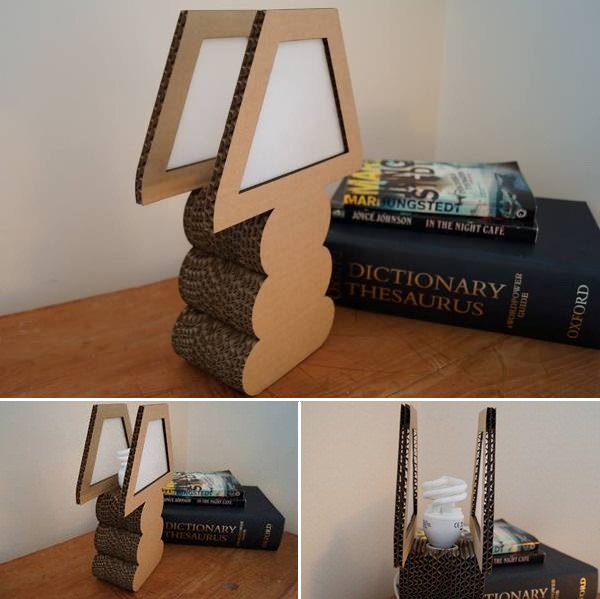 "COVER" table lamp, made from used cardboard boxes, which we collect from local grocery stores.  The lamp's design is so easy to paint on that we thought it would be a great idea to give them for children to provide an opportunity to create their own design product. It is really nice to see that children are really looking forward to edit the lamps in so many ways they want and later get a finished product, which could be proudly placed at their home. It is a real encouragement for them to spend time differently and creatively. This lamp was designed by Indre Butkute in 2012, when she was 17 years old. She created something simple and easily editable. The designer of the lamp, Indre is still going to secondary school and wish to study product design.
"Delion" pendant lamp, made from plastic thermo cups.
The look of the lamp could remind two things: dandelion or "Raffaello". Either way it looks light and elegant, which will add some ballerina's grace to the room.
This lamp took a while to finish as it is sticked up of 109 plastic cups. Although this lamp was made from brand new cups, which is a bit out of way for GSC, it is still greener than usual pendant lamp as the whole materials used for this lamp weight less than 300g.
Designed by Adomas Novogrodskis.
Here you can find all range of products made by Green Spirit Creations (shop)