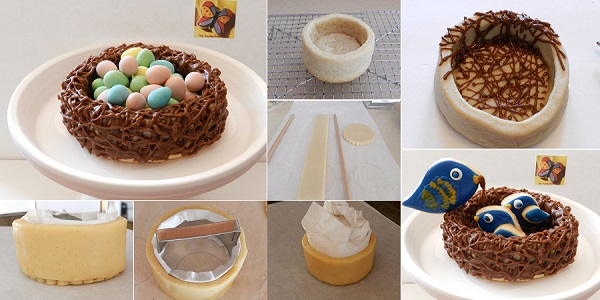 Here is a sweet piece of dessert which will make any kid and adult drool! With spring installing its characteristics with every passing day, you would want your cooking to match the season in the year. For this recipe of sugar cookie birds' nest, you will need:
• sugar cookie dough;
• brown royal icing;
• Jelly Beans;
Start by rolling out the sugar cookie dough. Then, take a biscuit cutter and make a large circle. Do a long strip of dough as well. Place them on a baking sheet, and wrap the circle with the strip, just like in the photo. Gently seal the two pieces together with your fingers. Put a bunch of parchment paper inside the dough to make it stable while baking. Leave it to cool and begin pouring the icing in an overlapping manner with the help of a piping bag. Make the lines look as natural and random as possible. This will give the nest a more life-like aspect.

Pipe the interior as well as all around the exterior of the nest. Repeat this until the entire dough is covered. Next, make the bird out of the rest of unbaked dough. Start with some leaf shapes, bake and then color with some blue and yellow icing to make them look like different sizes birds. After the icing has cooled for a bit (maybe pop it in the fridge for some minutes), place some jelly beans to act like eggs. Enjoy!



source: vanillabeanbaker.com