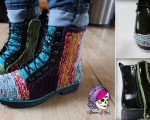 The notion of crochet boots sound a little bit funny, right? Well, not for an arts and crafts enthusiast, who knows no boundaries in creativity. So if you're looking for a cool piece that can spice up any outfit, then you can make these amazing faux crochet boots. What you need ...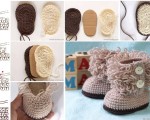 Baby clothes can be quite expensive, and the downside is that children grow so fast, that investing in a lot of baby clothes can make a big whole in your budget. A simple and elegant solution is to try and make some of those clothes yourself, such as knitted slippers and shoes. These ...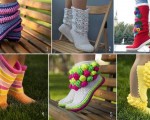 How about these lovely crochet boots ? These are inspired by the traditional Russian Pavlovsky Posad shawls! These gorgeous boots are hand crocheted and hand stitched to a steady rubber sole, with felt inner sole for more comfort.