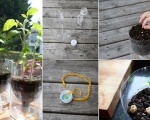 Growing your own plants is getting easier with each passing day. People find creative ways and creative things to aid them in small scale gardening and turn this activity into a common practice among people. And the neat stuff about it is that you can recycle materials and help the ...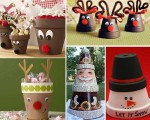 Give your Christmas a touch of fun with these crafty holiday pots. Change that lack of green plants with some smiling clay pots filled with candy and good joy. You can do this sort of DIY project within the hour and have a lot of fun at it. Grab these materials: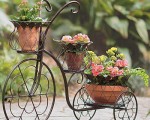 Display your plants in a unique way within your garden with this bicycle-like planter. Depending on the model, the planters have baskets for displaying up to two – four pots. Crafted from wrought iron curlicues, these baskets are cleverly designed in the shape of an old-fashioned ...