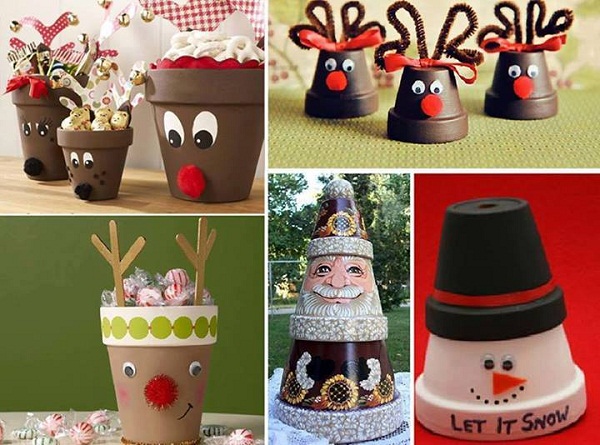 Give your Christmas a touch of fun with these crafty holiday pots. Change that lack of green plants with some smiling clay pots filled with candy and good joy. You can do this sort of DIY project within the hour and have a lot of fun at it. Grab these materials:
• 4 ½ inches clay pot;
• 2 ounces of each of these colors: Limeade, Black, Beige, Gold, Strawberry, Ecru;
• flat paintbrushes;
• liner brush;
• ¾ inches foam spouncer;
• ¼ inches stencil brush;
• 15mm wiggle eyes;
• 1 inch red sparkle pom-pom;
• some gold tinsel chenille stem;
• 4 craft sticks;
• craft glue;
• a knife;
• a pair of scissors;
• water container;
• paper towels;
• foam plates;
Take the clay pot and basecoat it with the Beige and then paint the rim with Ecru. Let it dry for a while and then use the spouncer around the rim to create some Limeade dots. Dip then end of the liner in Strawberry paint then use it for adding even smaller dots between the dots you already drew with the Limeade color.
With the help of the knife, score one inch of length from both ends of a couple of craft sticks and then use the scissors to cut away the pieces. Glue them to the full size craft sticks. After the new pieces have dried, use Gold paint on all of them and let to dry. Afterwards, stick them with glue onto the inside edge of the clay pot rim.
Put on the eyes and nose made from pom-pom on the pot. Take a very dry brush and paint Strawberry cheeks on the figure. Draw the mouth with Black color and the liner brush and then let the whole thing dry. Glue some gold tinsel chenille stem around the base of the pot to give it a great look. You know have the cutest holiday pot out there. Create a bunch of smaller reindeer pots for a full Christmas spirit in your home. Enjoy with family and friends!
source: plaidkidscrafts.com