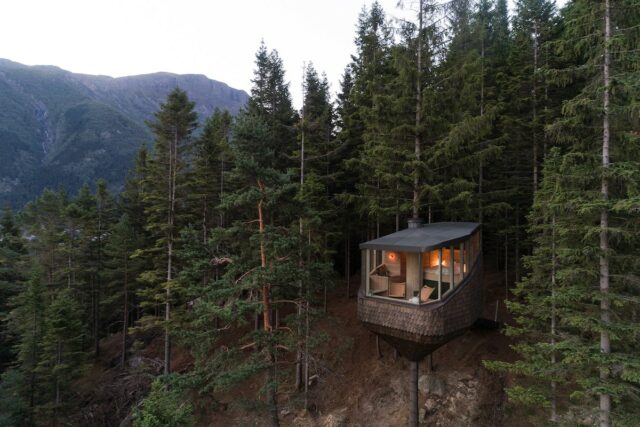 Remote gateways are enjoying a lot of attention during the COVID-19 pandemic, as everyone is looking to stay as secluded and safe as possible.
Woodnest cabins is pure heaven on Earth for anyone looking for privacy, and it is located in Odda, Norway. The modern capsules are small wooden tree houses and are attached to the trunks of trees by a steel collar.
The houses were designed with a lot of attention to detail and the surroundings, to be as non-invasive as possible and they are the works of Helen & Hard Architects. The cabins look like they are floating 15-20 feet off the ground, and they touch the trees only slightly, without causing lasting damage to them. The interior features a stunning view over the Norwegian mountains, a bedroom, bathroom, kitchenette, and the cabin is the ideal holiday stay for 2 people.
The exact location of Woodnest cabins is secret, and if booked an email with detailed instructions is sent to the visitor. The treehouses can be reached by a 30-minute hike and the elegant design is there to welcome everyone looking for a remote but still modern adventure.