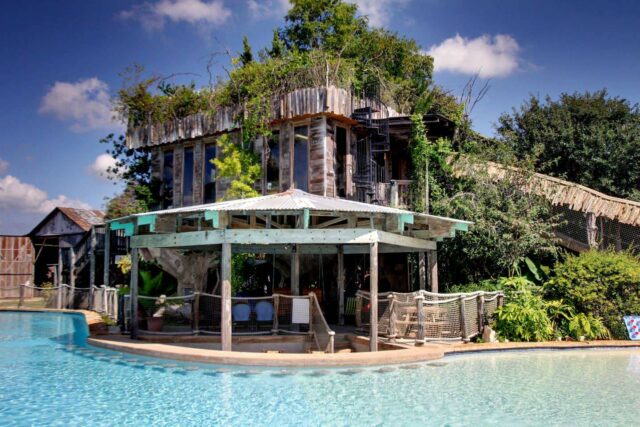 Are you planning a holiday with your children once the lockdown is over? Then this is the perfect spot, as it has plenty of space or you to relax and for your kids to play outdoors.
It is an Airbnb listing, called Redwood Tree Haus in the Texas Hill Country and the most amazing poolside treehouse out there. The massive home has 2 bedrooms and one bathroom, so it is perfect for a family with 2 kids. The treehouse is placed in the middle of the estate and is surrounded by a shared saltwater pool, that is also equipped with some extra features such as a bar and hot tub. The coolest part is that you can also find a large playground near so your children will have plenty of space to play and explore the surroundings.
According to the reviews posted on the website, visitors found the home equally suited for families and groups of friends, everything was just as in the pictures and has been top-rated when it comes to cleanliness. As an additional bonus point, the kitchen is also fully equipped so you don't have to spend a fortune in restaurants, and you can cook most of your meals in-house. In case this listing is not available, there is no need to worry as there are several other treehouses available on Airbnb, such as Las Palmas Tree Haus or Cloud 9 Tree Haus.