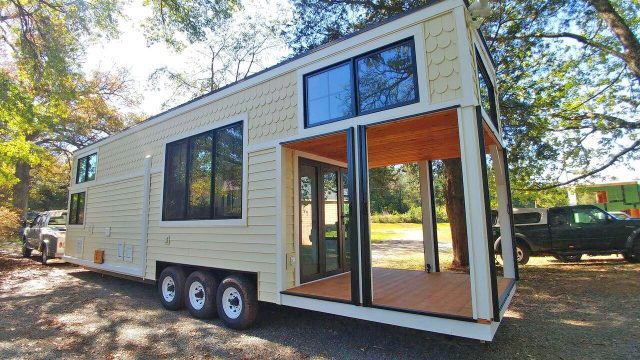 Tiny houses usually have one obvious downside: they are tiny. But the good thing about small homes is that they are made out of unconventional materials which can get additional elements, such as front porches.
This tiny home is built in the style of farmhouses, and it has a very nice built-in porch area which makes it more spacey that a regular small home. Also, this small home is on wheels, and you can move it whenever you feel like changing the scenery. The tiny mobile home was designed by Perch and Nest, a company that specializes in this type of design and vacation home.
The home measures 36 feet in length, 8.5 feet in width, and 13.5 in height, and the interior features a fine design and materials. The home is divided into separate spaces, which include 2 loft areas, a kitchenette with beautiful Quartz counters, a refrigerator, an electric stove, and a sink.
The welcoming living room faces the large windows of the house and is looking over the woods, creating a space of relaxation. The tiny house also comes equipped with a bathroom and a bedroom that can sleep 4 adults. And when it comes to the cozy built-in porch, the designers did an amazing job and managed to create an area that merges perfectly with the rest of the house.