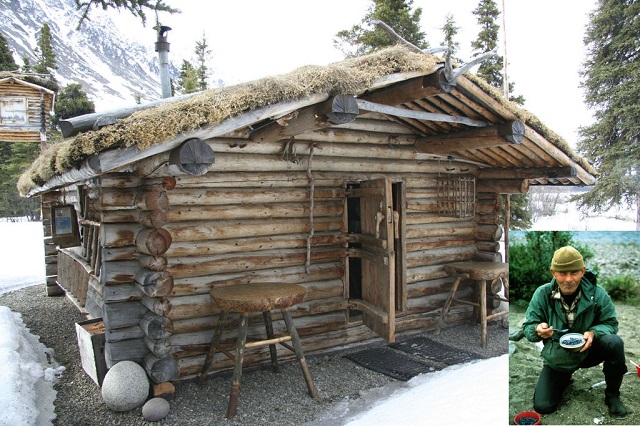 Richard Proenneke was an amateur naturalist who lived alone for nearly thirty years in the mountains of Alaska in a log cabin which he built with his own hands near the shore of Twin Lakes. Proenneke hunted, fished, raised and gathered his own food, and also had supplies flown in occasionally. He documented his activities in journals and on film, and also recorded valuable meteorological and natural data. The journals and film were later used by others to write books and produce documentaries about his time in the wilderness.
Sam Keith, a close friend of Dick Proenneke, wrote: One Man's Wilderness: An Alaskan Odyssey – Paperback
Bob Swerer produced the video "Alone in the Wilderness" in 2003. Bob edited more of Dick's previously unseen footage to create this film of Dick and his adventures in Alaska.
Bob Swerer produced the video "Alaska Silence & Solitude" in 1998. In 1997 Bob Swerer and Bob Swerer Sr flew to Twin Lakes to visit with Dick Proenneke and explore the Twin Lakes region.
Bob Swerer produced the video "The Frozen North" in 2006. Dick Proenneke shot over 3000 feet of 8mm movie film. Bob edited the film and added sound to create this fascinating film of one man living alone in the Alaska wilderness.
Bob Swerer produced the video "ALONE IN THE WILDERNESS PART II" in 2011 after Dick's brother Raymond discovered more old footage that had never been seen before, which includes more building and carving, canoeing and outstanding wildlife footage.