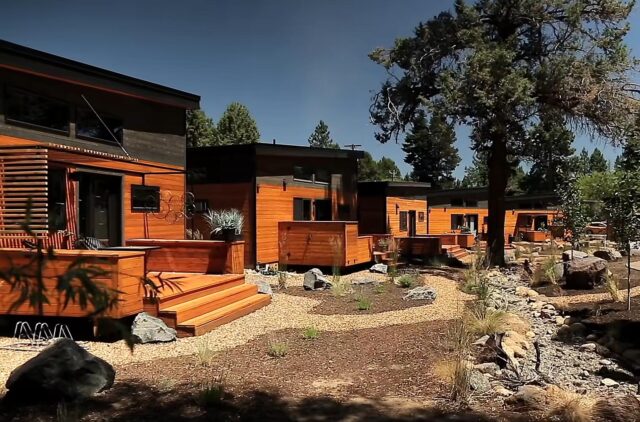 This tiny house community in Bend, Oregon looks like the perfect place to live. The community was designed by Jesse Russel from Hiatus Homes and is a small village comprised of 22 homes. The houses resemble vacation homes but can be used as a permanent residence and they are connected by pathways and shared common spaces such as planters, ponds, and fire pits.
The village is a self-sufficient one, as each home has a solar panel installed on top of it and there is even a bike garage to encourage a healthy lifestyle. The front deck that comes with each house, is the ideal place to spend quality time with friends or simply enjoy the surroundings.
Each house features a large open living room and kitchen and an upstairs bathroom and bedroom.
The house comes fully equipped and with plenty of clever storage units, such as under the stairs storage spaces so you can have plenty of free living space without feeling too crowded.
To learn more about this amazing tiny house community, watch the video tour uploaded by Tiny House Expedition.