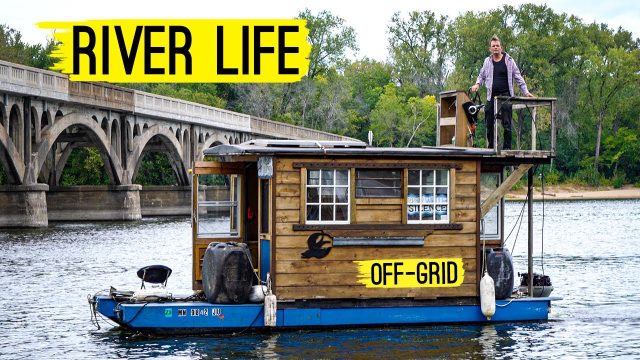 Here, an Off-Grid community of Tiny Home Houseboats and Boathouses have taken over an island – proving that living Off-Grid isn't only reserved for land dwellers. With over 120 Tiny Home houseboats and boathouses, Latsch island is one of the most unique Off-Grid communities in America.
Residents on the island live a self-governed life of freedom and mobility as they dictate their own laws and travel freely on the Mississippi River.
Around half of the homes here have the option to be hooked up to the power grid, but many chose to live completely disconnected. Recently, with new money entering the glorified 'Off-Grid' lifestyle, the island is undergoing a transformation.
Latsch Island in Winona, Minnesota, is home to about 120 boathouses // Photo by Aaron Davidson, The Growler
Oral history says the boathouses started during the Great Depression, but it's imprecise—the record of area floods is more detailed than its history of habitation.
Boathouses on Latsch Island have always been seen as an alternative lifestyle, a way to live cheaply. But it takes a unique and determined mindset to make it work. While some boathouses are expensive and modern, others, like Simon's, are made of mostly found materials. Those materials are often untreated and decay faster, he says, making repairs an almost constant chore.
Latsch Island is an island located on the Mississippi river, and is part of the city of Winona, Minnesota. Latsch Island is best known for its off-the-grid counterculture houseboat ("boathouse") community, who occupy the eastern coastline of the island. During periods of flooding or high water levels, the island sometimes becomes two islands, with the eastern section referred to as Wolf Spider Island.
source: growlermag.com & Off the Cuff Channel