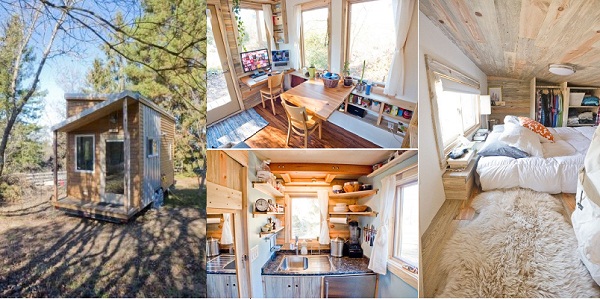 When thinking about efficiency in terms of house building you most often come across words like space and energy (besides the obvious money concern; but they relate to each other). The Sebastopol, California based residence is a perfect example that you can have a perfect mix of all the above. With all kind of clever improvements and appliances, it can space a couple with a small dog, making it perfect for persons who want to start a family but don't really want to settle. What do we mean by that? Well, the Tiny Project is built on a trailer, allowing the home-owner to change the scenery as he or she pleases.
The whole concept of the tiny home revolves around increasing efficiency and saving as much energy as it can. With 10 windows and a full-glass door the design of the home lets all the natural light come in, reducing the need for a high lighting bill. Stainless appliances use propane for heating and cooking, along side compact washer and refrigerator connected to a grid that makes the house perfect for plug-and-use with an extension cord from a main electric unit, where you station.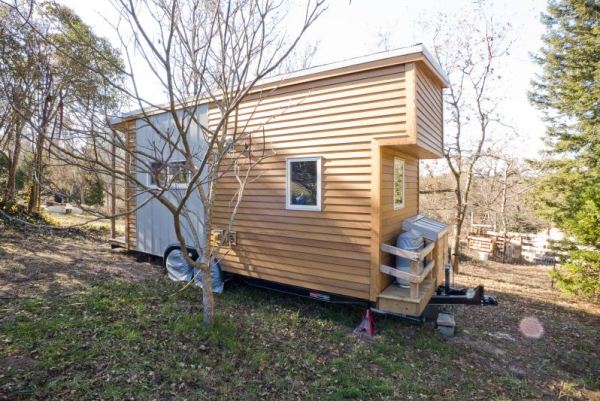 Alek Lisefski designed the 8×20′ tiny house on wheels to consume low amounts of materials and really blend in with the environment. He built the entire home himself, using sustainable ponderosa pine for the walls, loft floor and ceiling. Cedar was also used for the siding along with 3" of closed-cell spray foam insulation. With built-in storage and shelving, ingenious use of wall space and useful decorations, the residence is fully functional and can be easily compared with a small modern downtown apartment. Once parked in a more permanent location, it can have additional solar panels installed, along water collection facilities in order to make it even more self-sustaining.