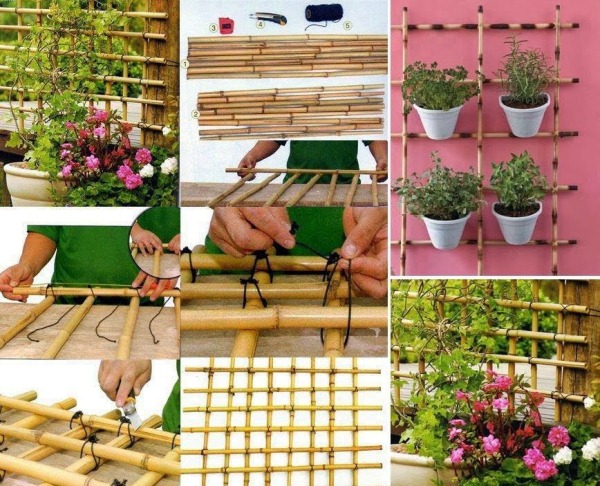 Decorating a garden can be a hard task, since there are many different ways to do it. The important thing is to find the decorations that fit your taste and imagination. There are a lot of stores that sell garden supplies and decorations, but what happens if you search for days in a row, but can't find what you are looking for? Then the solution would be to make built the decoration yourself. This way you can be sure that it is exactly what you like. To give you an idea of how a DIY garden decoration would look like, take a look at this next tutorial which show you how to make a trellis out of bamboo. Grab the following:
• 7 pieces of bamboo (diameter: 2.5 cm and length: 1 m)
• 8 pieces of bamboo (diameter: 2.5 and length: 80 cm)
• Cutter
• Roulette
• Nylon
Start by placing the 8 pieces of bamboo side by side in a vertical way. Take one 1 m long piece of bamboo and place it horizontally. Leave a space of 10 cm at each end. The roulette will help you to measure the distance between the pieces of bamboo. Tie the bamboo pieces to each other using the nylon (you can look at the pictures to make an idea about how to tie them).Now repeat the entire process with each piece of 1 m long bamboo. When you are done, you will get the structure of the trellis. Leave 10 cm between the first horizontal bamboo and this next one that you will place parallel to it. Tie the pieces of bamboo again with the nylon. Repeat this step and add the remaining bamboo pieces (just like in the picture). Cut the moorings of the first two pieces of bamboo. This way the whole structure will get a finished look. Go in the garden and find a place where you can hang your trellis. Place your plants on the trellis and that is all. They will grow and "climb" on it and your garden will look really great.