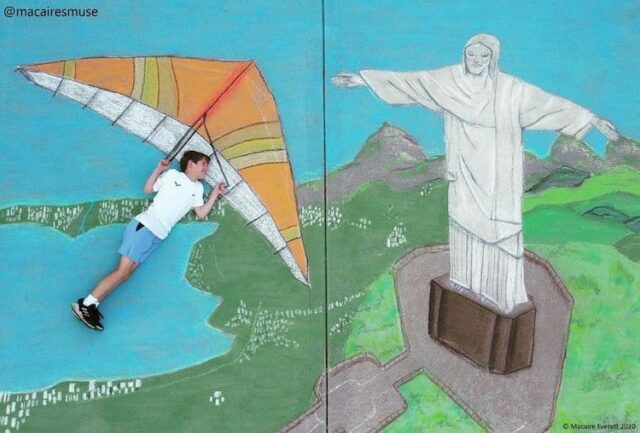 This year's pandemic hit everyone hard and it was especially hard for children to handle the situation. Not being able to go outside, meet with friends, and explore the outdoors wasn't easy for both smaller children and teenagers, so members of the family tried to come up with distractions.
14-year-old Macaire Everett thought about an adorable way to keep his 9-year-old brother excited and in a good mood and used chalk art to conduct her plan. Macaire created a lot of large chalk art on the sidewalk, illustrating places around the world so she and her brother can travel while staying safe.
When the works were completed, she asked her brother to lay on the ground and interact with her works. The results are funny and heartwarming pictures, of the two having fun and traveling places while going through these hard times together.
After a while, Macaire asked her brother to help with ideas as he likes to travel and loves unique ways of transportation. So, she decided to draw him a helicopter, a spaceship, and even a gondola and you'll have to look at the pictures to see how simple chalk art can turn into something magical. All of the adventures have been shared on Macaire's Instagram page and they are beautiful.