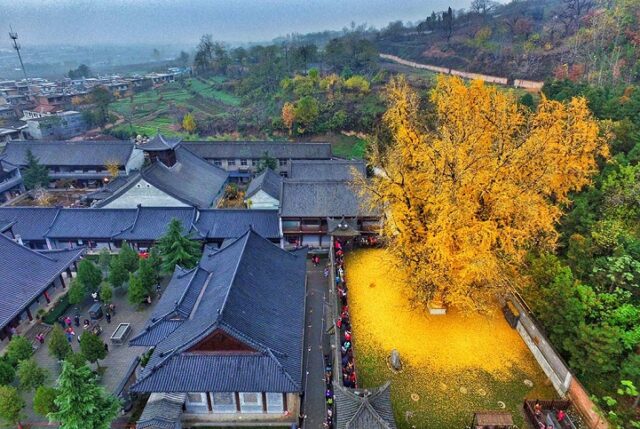 Gingko trees are easily recognized from their leaves, and a 1,400-year-old ginkgo tree in the Zhongnan Mountain region of China offers a spectacular sight in fall.
When transitioning to the cold season, this tree sheds its leaves, creating a brilliant rug of golden leaves. The tree is located in the yard of the Gu Guanyin Buddhist Temple and attracts a lot of tourists in the fall, as all of them want to witness the show.
Legend says that the ginkgo tree was planted for Emperor Li Shimin who was the founding father of the Tang Dynasty and is one of the oldest trees in China. The leaves of the ginkgo tree are also known for their use in various areas, such as food and even medicine, so it is no wonder that these trees are highly respected in Eastern culture.
Since they are among the ancient trees in this region, they occupy a special place in the Chinese culture and are protected and cared for with great attention. The monks of this Buddhist Temple can call themselves very lucky to have such a stunning sight in their yard, one that offers a spectacular view every season.