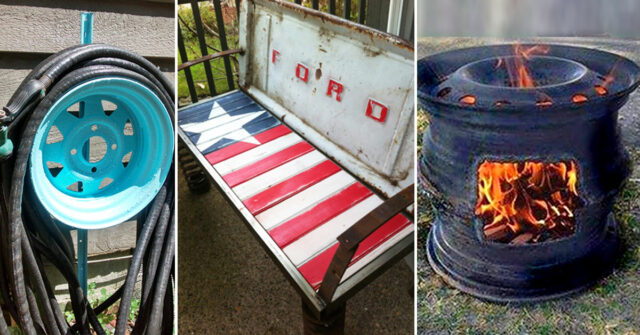 Who said old car parts can't be used for DIY projects? Not all old car parts are useless, and some can find new purposes in the form of furniture, accessories, and even art.
Old pieces of metal usually end up on a dumpster site, but why not save some of them and recycle, as repurposing old things can help you live a more sustainable life.
You can make so many great things out of old car parts, and among the coolest is a wheel rim fire pit that can be ready just in time for this Summer's barbecues. Or if you have and old vintage car but it is not worth anytime, you can always turn its frame into an awesome grilling and picnic area. This will also give your backyard a very nice and hip vibe.
Or maybe you are more into building home décor items, instead of outdoor accessories. Then you can use old car parts to create an industrial-style lamp made of suspension pieces or create amazing truck spring bar stools.
The list is long and very creative and you can check out all the ideas and decide which one fits into your home or garden.
1. Wheel Rim Fire Pit

2. Vintage Car Frame Turned Grilling & Picnic Area
3. Seat Belt Buckle Keychain
4. Car Spring Mail Organizer
5. Tire Rim Hose Reel
6. Lamp Made Of Suspension Pieces

7. Mustang Pool Table

8. Truck Spring Bar Stools
10. Truck Bed Frame