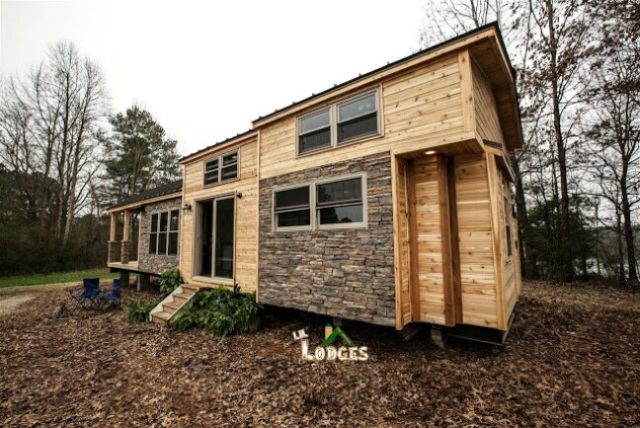 This small cabin in the woods hides an unexpected and glamorous interior. It was built by Lil Lodges from Bear Creek, Alabama and got featured on Tiny House Nation thanks to its beautiful interior and warm finishes.
The builders named it a "smart cabin", because of all the effort they put in it and this can be observed once you look at the pictures of the interior space. It features a large living area with an amazing stone fireplace, and thanks to the size of the ceiling it doesn't feel like a tiny house at all.
The kitchen is also spacious and fully equipped with a stove, dishwasher, fridge and warm touches of natural reclaimed wood, and earthy colors.
The designers have created a very elegant bathroom with an eco-friendly composting toilet and a large shower space. There is one master bedroom downstairs and two loft bedrooms upstairs, so the tiny is house is perfect for a weekend with a group of friends or children.
Each room has its own personality that blends in perfectly with the style of the cabin. Also, let's not forget about one of the best parts of the house which is the covered outdoor deck that can host a nice dinner party or a late afternoon brunch.