Agrivoltaics is the co-location of solar power and agricultural production. It is not a new idea, but is not in widespread use.
Agrivoltaics is a relatively new field with infinite potential: it is the agricultural practice that uses solar power at its best. Studies observed that plants tend to have a more efficient growing cycle when planted under arrays of solar panels, and the panels produce more electricity as well.
Jack's Solar Garden in Boulder, Colorado is a great example of this new type of farming and it is just one out of many similar projects around the US. Byron Kominek who works at Jack's, which was his grandfather's farm, is one of the farmers in the US who is leading the agrivoltaics movement.
His 24-acres farm was transformed into a solar-powered farm after years of struggling with the produce and crops. He applied at the Boulder city council for an agrivoltaic farm permit and with the help of Namaste solar, a consultancy firm in solar panels, they installed 3,200 solar panels on his land.
The rows of panels are installed at a pre-measured height and distance from each other, to permit space for tractors to drive among them and harvest the produce.
The field of agrivoltaics is still in development, and more innovations are to follow, so keep an open eye for investment opportunities and best practices.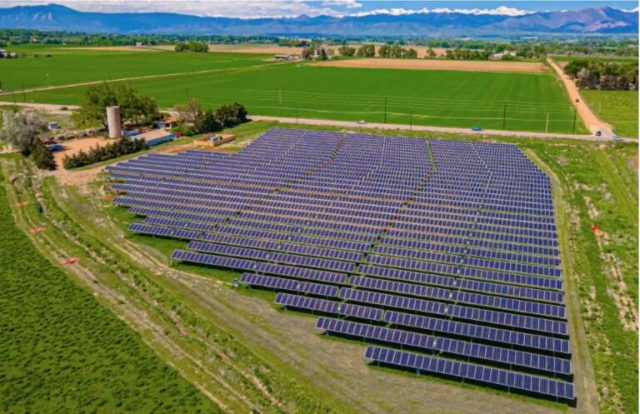 Off of North 95th Street in Boulder County, my grandfather, Jack, bought my family's farm in 1972. Here, Jack farmed hay and wheat to support his family until 1980 when he passed away. Through the summer of 2019, hay production continued even though it has become less and less economically viable on our 24-acre farm.  (jackssolargarden.com)
What is Agrivoltaics? see the video on the next page…