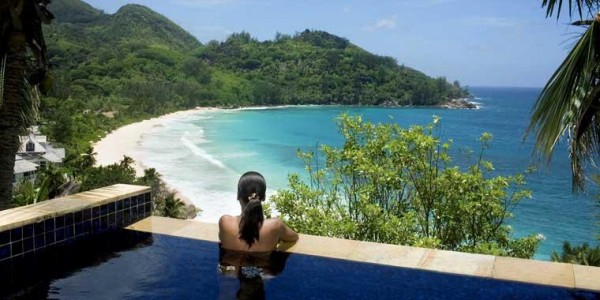 Picture the sun on your skin, sand at your feet and time on your hands. At Banyan Tree Seychelles resort, placed on the south-western coastline of Mahé Island, 60 amazing villas welcome you. Banyan Tree Seychelles, a beautiful paradise surrounded by flora and fauna, is perfect for a great holiday or for the vacation of a lifetime.
Overview of the Villas
The villas combine the best of Seychellois architecture – contemporary decor – from high sloping ceilings to airy verandas.
Intendance Pool Villa
With a beautiful charm, the Intendance Pool Villa is a classic example of traditional architecture. From the spacious terrace of our five exclusive Intendance Pool Villas, you enjoy a stunning bird's eye view of the Indian Ocean, Intendance Bay and the lush tropical mountain greenery surrounding Banyan Tree Seychelles. Featuring a private jet pool and swimming pool, a set of walkways and stairs connects your villa, living pavilion and pool with a separate sundeck and jet pool – set at different levels into the hill in between imposing granite rocks. Breathtaking views are the trademark of the lofty Intendance Pool Villa, which has been inspired by the exotic charm and elegance of local colonial architecture. For spa aficionados one Intendance Pool Villa on top of the mountain also features an additional massage pavilion.