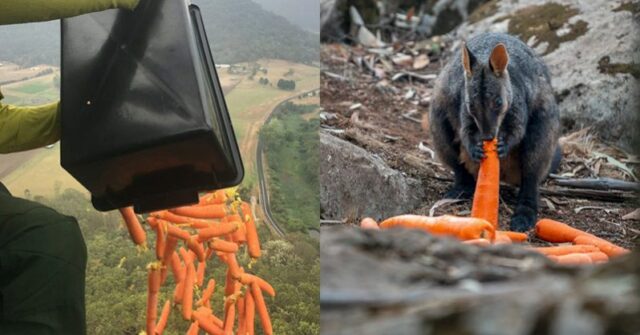 Australia has been going through some tough time with forest fires spreading all over the country and causing a severe loss of wildlife. In areas where the fire has stopped burning, the remaining animals are still struggling to find food and survive. Luckily, Australians have found an ingenious way to help animals in these hard times and started a rescue program that involves food dropped from helicopters.
Among the most affected are the wallabies and since they are left without their natural habitat, finding food is extremely hard for them. So, now the wallabies are showered with carrots and sweet potatoes that are being dropped from helicopters, this way staying safe and undisturbed. Of course, this is only a temporary solution but one that solves a major issue and ensures the survival of this species.
A lot of other animals are in danger of going extinct in Australia, so there is still a lot of work to do and everyone can get help by donating to organizations such as The World Wildlife Federation – Bushfire Emergency Fund, World Animal Protection, Animals Australia or WIRES Wildlife Rescue.
In New South Wales, thousands of kilograms of carrots and sweet potatoes are being dropped by planes and helicopters in fire-affected areas to help wildlife. (EPA-EFE/Shutterstock)