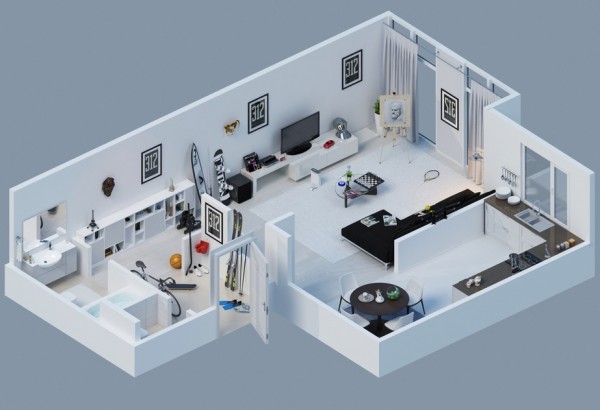 These next designs are the work of the 3D artists named Shako Gurgenidze and Dmitriy Schuka. They designed some great plans for apartments, which, as you can see, are all in 3D. The purpose of these sketches is to give you an idea about the whole outlook of the apartment. Each plan includes decorations and furniture and has also some great wall art. As you will see, some of the concepts are repeated as the designers wanted to recreate the same plan but structured differently, either as a single-bedroom apartment or a double-bedroom one.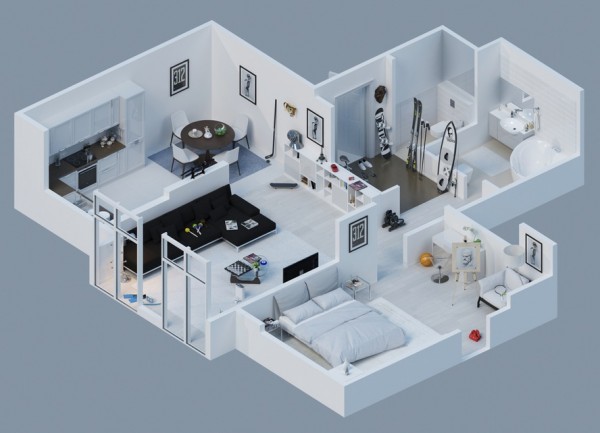 What each and every of Dmitriy's designs have in common, is that all the apartments are endowed with a recreational space, where you can store sports equipment, and it is also represents a great way to make use of the entire space available. The designs show how you can take advantage of all the storage spaces available in the apartment. Some designs incorporate more pale colors while others are rather vivid and cheerful.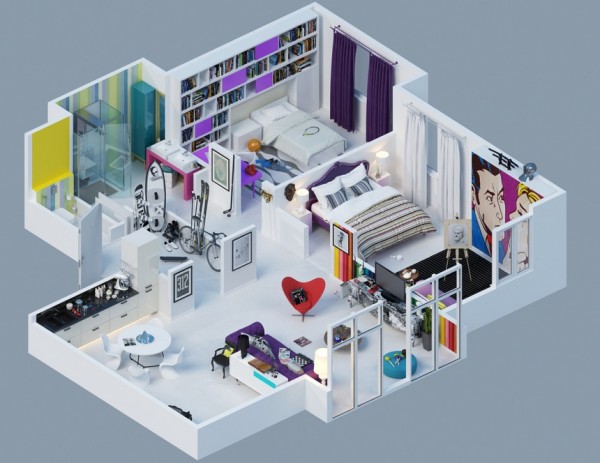 You can find a great variety of ideas here, from Victorian styled bedroom to a more contemporary and minimal one. Brick walls mix with great patterns which can be observed in Shako's work too. He puts an emphasis on the outdoor space, which is a recurring element in his designs. These green outdoor spaces let you get in touch with nature and make the whole loft seem more alive. He tries to keep everything natural, by using wood in the elements of decor. His designs are mostly suitable for families as his layouts are larger than those designed by Dmitriy. One of his nicest designs is a rooftop with a great outdoor space, perfect for spending the free time.