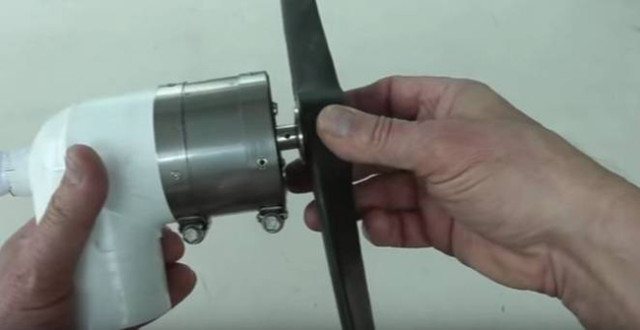 A DIY project that puts to good use wind energy. If you are interested in using renewable energy, this micro wind turbine could be quite effective for you. Even though it's not large enough to power many things at once, it can still be used in order to see how wind energy works. Furthermore, you can build it as a mini charging station for portable electronics or small outdoor lighting accessories. Basically, you can use wind energy for practical purposes, and this video from ScienceTubeToday is providing all the necessary instructions.
When building the generator you have to use what is called a stepper motor (something a bit different than a standard DC electric motor), which can be scavenged from an old inkjet printer. This is considered to be a better choice, as opposed to using a DC electric motor as a generator, because it produces electricity at a very low speed, whereas a DC motor will require thousands of RPM.
Although the stand is made out of PVC pipe, a material that we cannot actually consider as being green, there is a probability that you already have some lying around to use for this. Repurpose old materials so that your projects are a little bit more eco-friendly.
The instructions presented in the video below are not narrated. However, the information is getting across quite effectively. If you can't keep up with the pace, just pause it from time to time. Check it out below:
The model shown in the video uses an aircraft propeller, which you probably don't own, but there are various alternatives for DIY turbine blades, so it's not impossible for you to make one.
For more details on this and other DIY electricity and science projects, check out ScienceTubeToday.
More: