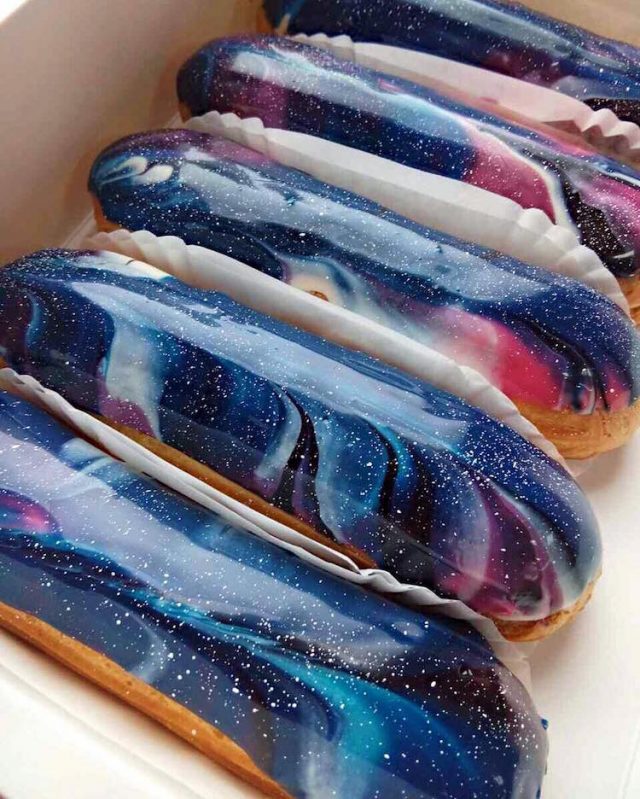 Artisanal baking has been taken the Internet by storm, with a lot of DIY baking tutorials and cake decorations. But this trend is also one on the rise outside the web, as a lot of small bakeries appeared in up-and-coming neighborhoods with tasty homemade sweets.
Musse Confectionery is a Ukraine-based bakery that has been experimenting with the most amazing eclairs ever: galactic eclairs. These extraterrestrial sweets capture the beauty and mystery of the cosmos on top of them, as their glaze reflects colors of blue, purple, and pink swirls with touches of sprinkles or stars. The eclair glaze doesn't have an intricate recipe, as it is made mostly from sugar and food coloring, but the details are inspired by pictures taken by the Hubble Space Telescope.
Musse Confectionery makes their signature eclairs in 5 flavors: pistachio, vanilla, raspberry, chocolate, and salted caramel and you can taste them next time you're visiting Kyiv. Until then, you can follow the bakery's Instagram and Facebook accounts for inspiration and good cosmic vibes.