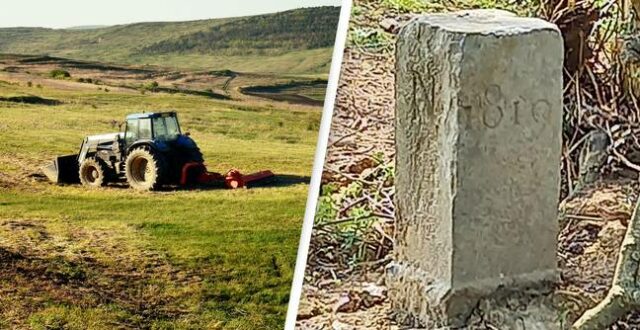 A farmer in Belgium has caused a stir after inadvertently redrawing the country's border with France.
A local history enthusiast was walking in the forest when he noticed the stone marking the boundary between the two countries had moved 2.29m (7.5ft).
The Belgian farmer, apparently annoyed by the stone in his tractor's path, had moved it inside French territory.
Instead of causing international uproar, the incident has been met with smiles on both sides of the border.
"He made Belgium bigger and France smaller, it's not a good idea," David Lavaux, mayor of the Belgian village of Erquelinnes, told French TV channel TF1. That sort of move caused a headache between private landowners, he pointed out, let alone neighbouring states.
The border between France and what is now Belgium stretches 620km (390 miles). It was formally established under the Treaty of Kortrijk, signed in 1820 after Napoleon's defeat at Waterloo five years earlier. The stone dates back to 1819, when the border was first marked out.
"I was happy, my town was bigger," the Belgian mayor added with a laugh. "But the mayor of Bousignies-sur-Roc didn't agree."