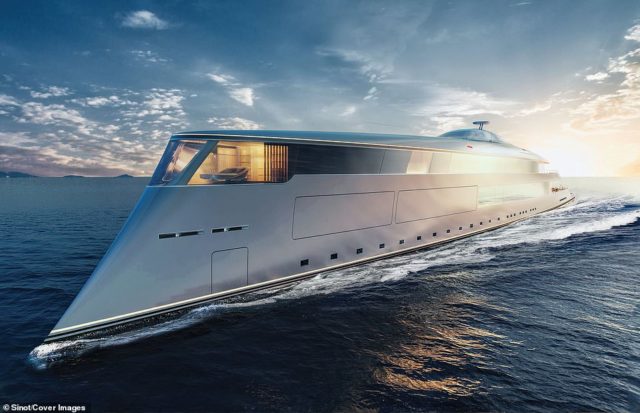 It seems like hydrogen-powered superyachts will be the next big thing and Bill Gates already placed an order for one. If you are planning to buy your yacht, then there is still a long way to go as such an eco-friendly yacht costs $645m. Bill Gates is an advocate of clean energy use and new technologies and his new yacht will be built by the Dutch company, called Feadship.
His custom-made yacht's design is inspired by the blueprints of the "Aqua", a superyacht of 112-metre showcased last year at the Monaco Yacht Show. The yacht was made by the Dutch company, Sinot and they make niche yachts for billionaires who display an interest in issues regarding our environment. According to them, the owner of such a yacht should be a "forward-thinking individual" so Bill Gates fits this image perfectly. It is widely known that Mr. Gates prefers superyachts for his summer holidays, but this will be the first one that he owns, as all the rest have been rental ones. His new yacht should be ready for use in 2024, will measure around 114 meters and should have a capacity of 14 people.
This won't be the largest private yacht to be ever made, but it will surely be the world's first hydrogen-powered superyacht.
The yacht will be powered by two one-megawatt motors and the liquid hydrogen will be stored in two 28-ton vacuum-sealed tanks.
Update!!!
!!!! BILLIONAIRE Bill Gates was said to have bought a $645 million "green" superyacht — but the design firm behind the vessel now says the rumored purchase was not true.