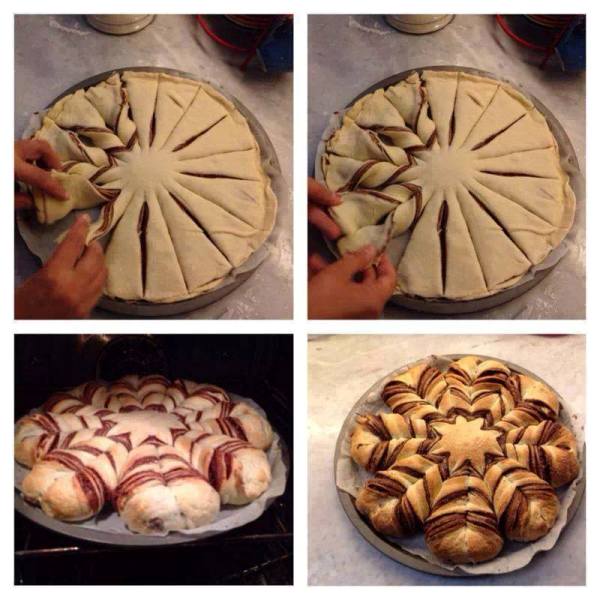 Making a delicious desert is so hard because you are tempted to eat it before you actually finish the product. Take this test of patience and skill, in order to enjoy a slice of delicious chocolate bread. It's a lot easier to make than it looks and even if you're not a specialist in the kitchen, you will surely make your friends drool when they see what tasty bread you made. Make sure you have:
450g /1lb of Bread Flour
70g / 1/3 of a cup of Sugar
2 Teaspoons of Active Dried Yeast
A pinch of Salt
30g / 1oz of melted Unsalted Butter
180ml / 3/4 of a cup of warmed Milk
2 Egg Yolks (keep the whites to glaze the bread)
1 cup of Nutella
1.Start by dissolving yeast in ¼ cup warm water in a small bowl. while you let the yeast rest for 10 minutes.
2. In a separate mixing bowl, mix flour, salt, and sugar. Beat till smooth. Add the yeast and mix at a low speed, Slowly increasing the speed to medium for 7 minutes.
3. Lightly oil a separate bowl, and place the dough you recently made in there. Cover it with plastic wrap and in about an hour of sitting in a warm place it should double in size.
4. Separate in to two equal parts. Roll one part to make a 12in circle. Place it on a parchment or silicon baking sheet. (sprinkle the sheet beforehand with cornmeal.) Take the unrefrigerated Nutilla (microwave for 30 sec if necessary for ease of spreading) and pour an even layer on the surface leaving half an inch margin of dough on the edges.
5. Take the remaining dough and repeat for top layer. Press the bottom and top edges together with a slight twist to seal the edge before cutting. Use a knife to cut the dough down the middle, but keeping the center intact. (See pic.)
6. Pre heat the oven to 350°F
7. Twist each triangle section as shown in pic. Cover it with plastic wrap and set your future bread aside in a dry place for 20 min.
8. Brush each twist with some egg wash before placing in the oven. [An egg wash is just beaten egg and maybe a little bit of liquid (usually milk or water), which is mixed together and brushed (or "washed") onto the pie dough's surface with a pastry brush.]
9. Bake for about 20 minutes. To get that lightly brown look, raise to 425°F and bake for another 5-7 minutes. It's done! Let it cool before serving.
Video –>  Braided Nutella Bread