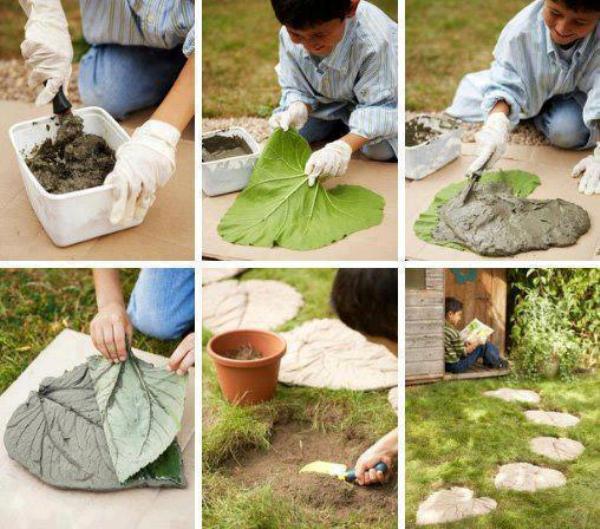 You can use a large rhubarb leaf as a guide for sculpting these stepping-stones and completed a pretty, sure-footed path through the garden in a couple of hours. Hard as rock, concrete ornaments are easy to make. Even better, this versatile outdoor material is low cost and prettier than you might think. Try these techniques for customizing, shaping, and finishing a unique and charming path with a rhubarb leaf.
Steps:
Step 1 – To do this project yourself, start by planning a path of staggered steps matching your stride. Carve each leaf-shape hole about 3 inches deep.
Step 2 – Lay a 1-inch drainable base of pea gravel topped by ½ inch of coarse sand in each hole.
Step 3 – Prepare the concrete, adding water slowly to half a bag of quick-setting mix (meaning it starts hardening in about 15 minutes).
Step 4 – Blend the concrete with a hand trowel until it is thoroughly moist and resembles chunky peanut butter.