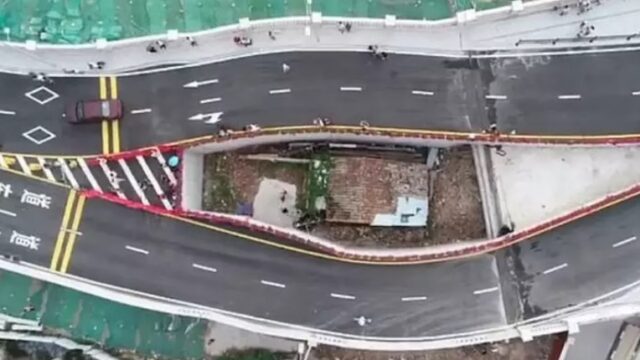 Sometimes if you're strong enough to believe in your dreams or principles, life rewards you with surprising gifts. When a new motorway bridge was built in China in Guangzhou, a resident found herself in a very strange position. The home of Liang was a tiny construction that happened to be right in the middle of the planned motorway, but the Chinese government failed to provide her with a relocation plan.
So, after 10 years in which she refused to sell her home to the government, there was no other option left than to build the motorway around her tiny home. The tiny house has only 430 square foot and is now in a pit which is surrounded by the newly built motorway, a very noisy and polluted place for a home.
When the government drafted the plan of the motorway, there have been 47 other households and 7 firms based on the property, but all of these decided to relocate after negotiations. The government also declared that Ms. Liang received a lot of offers, consisting of alternative flats and even cash, but she rejected the idea of moving from the property. Besides the peculiarity of this situation, there is also a safety measure that needs to be taken into account, as long-term living in the middle of a crowded Chinese highway, might not be a great idea.
The owner said authorities failed to offer a flat in an ideal location …as one was close to a morgue.
If the replacement is really close to morgue then I think nobody would be willing to move.