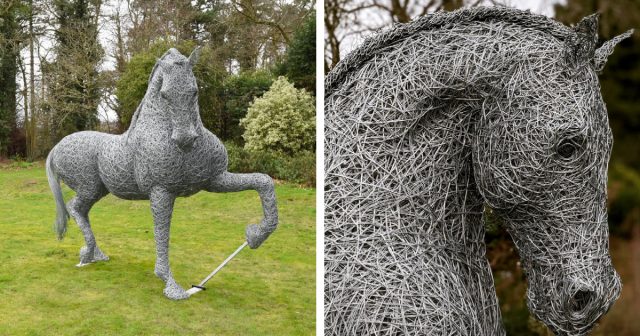 Self-taught artist Connie Adam has a love for horses that is reflected in her art too. She is based in Norfolk, the UK, and builts amazing sculptures from galvanized wire and scrap metal.
Her most eye-catching pieces happen to be featuring horses, which are already considered majestic creatures by default. Her life-size sculptures capture every detail of the animal, and some even mimic movement which makes the pieces look even more stunning.
Connie started her works by creating some first attempts with a kit from wire sculptor Robin Wright and couldn't stop afterward.
Connie says that her favorite part about steel wire is its ease of use, as it can be twisted and turned into any shape with a bit of practice. Her love for horses is one present since childhood so it came only natural to her to try and materialize it through sculpting. Her family also has some older mares and this made it very easy for her to observe them, learn about their anatomy and create her sculptures in their presence.
Visit Connie's website to learn more about her amazing work and you can even order a 100% steel woven sculpture for your home.