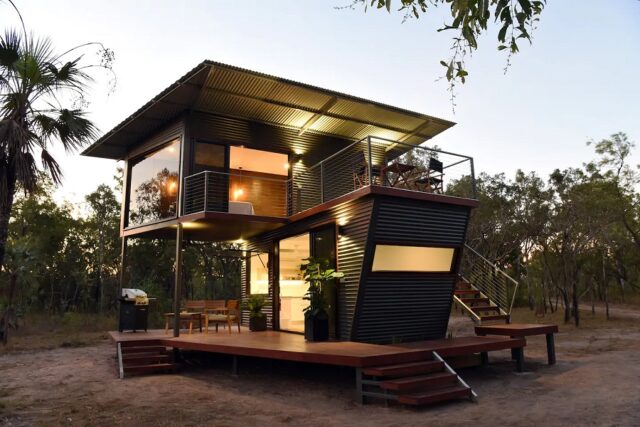 Who would have thought that shipping containers can be turned into minimalist cabins? Roger and Vivian Latham, both have a very artistic eye and managed to turn some regular shipping containers into a beautiful tiny mansion.
The property is located at a 90-minute drive from Darwin, and besides hosting their home, it is also the place for a music camp and tourist accommodations.
The two cabins built by the couple were made from 12-meter shipping containers that were cut in half and used to create a two-story cabin and another separate one. Both of the cabins have a kitchen, sitting area, one-bedroom, and large windows to create a well-lit space with lots of sunlight.
There is also a deck that was added later to the design and is the perfect place to enjoy a nice glass of wine.
The cabins are both off-the-grid houses as they are located in a remote area and even though they seem to be minimalist, their costs were not.
According to Roger each cabin had a cost of $80,000 and shipping the containers to their spot added extra costs too. The tourist accommodation opened in mid-2019 and the place is usually fully booked when the weather conditions are favorable and it's not pouring in the area. Take a look at the pictures to see each detail of these dreamy cabins.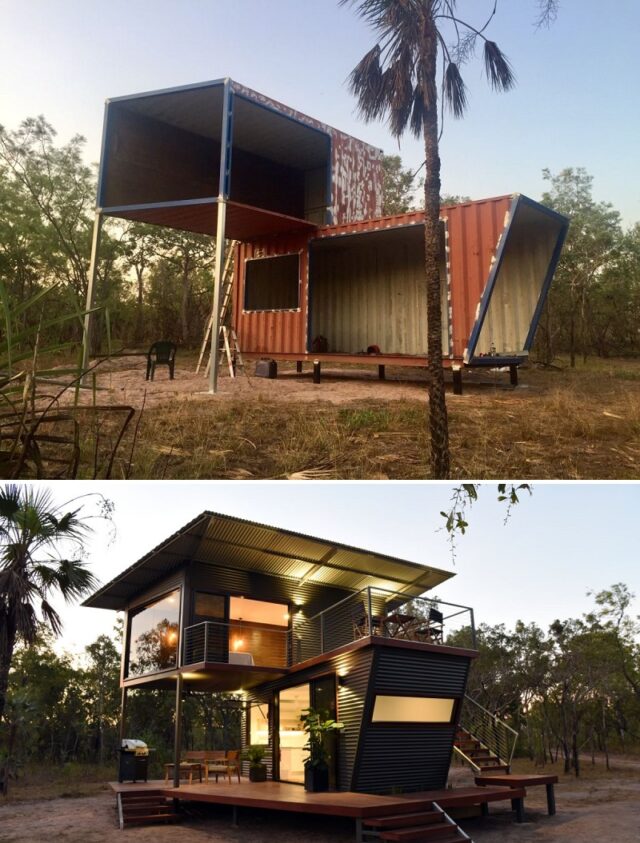 Hideaway Litchfield cabins can be booked through Airbnb.
These operate on both solar (day time),and generator at night (silent generator located at main house). Cabins are secluded in bush land, interconnected to each other by a 70 metre solar lit path. Here you will be surrounded by natural bushland, with Birds and kangaroos for company, only minutes drive from waterfalls and rockpools.
You have the choice of cooking on the deck outside or in aircon comfort inside.
A luxurious bathroom is a welcome friend after exploring the National Park, and only the stars to keep you awake at night.
Unless you prefer to snuggle into the couch for a movie.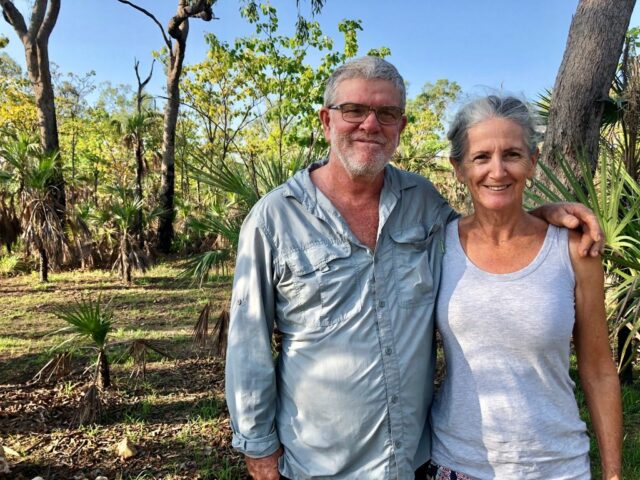 The Latham family decided to make the most of their Northern Territory property. Photo: Hideaway Litchfield
Large windows and ample decks were added, integrating the cabins into the bushland setting, home to kangaroos, wallabies and potoroos.
"We sit in bed and have a coffee in the morning and watch the sun come up, and sit on the verandah at sundown having a cool drink."
Hideaway Litchfield cabins can be booked through Airbnb.