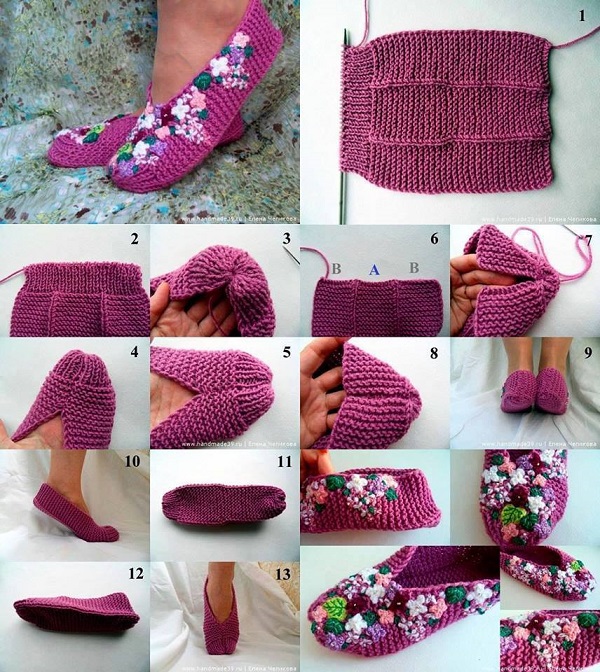 This next cozy slippers tutorial is perfect if you are looking for a birthday gift or just want to surprise yourself with something cute. They are perfect for the spring weather especially if you choose some vivid yarn as the basic colors for the slippers. The tutorial is similar to the other slipper tutorials from this website, but the nice twist in it is that these will have a nice flower decoration. You will need the following:
• yarn (any color you want);
• woolen thread for the flower embroidery;
• beads;
• spokes for the slippers
You will need a bit of crochet skills for these slippers. First of all make the base by taking the spokes and collect 34 loops of yarn. Apply a bead and make 32 rows and add another bead. Continue with the second row that will have one bead, 10 rows, one pearl, 10 rows again and so on until you have the length that you want. Add a bead at the end. Continue to make these steps until you have the shape of the slipper, you can follow any other slipper pattern you like. When you have all the rows, just assemble the slipper with the help of the yarn. After that you will have to make the flower decoration by knitting a chain of 4 stitches to create a ring, and then add the petals of the flower. You can add some beads to each flower as decoration. If you get stuck, just follow the pictures as they are here to help you. This will surely be a great gift as it is something handmade and unique just as the person you will be giving it to.
source: handmade39