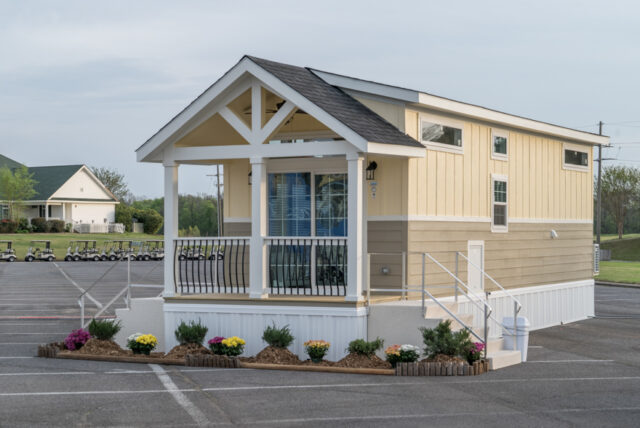 Some tiny houses have a special vibe, that makes the perfect to be used as a vacation home by the seaside.
This model built by Park Model Homes and named New Athens 536 is one that would look great on a piece of land near the beach. Looking at the exterior of the house, you can observe very clean lines and a neutral color, this house is characterized by simplicity.
The entrance can be reached by two sets of steps on both sides and it has a tiny front porch.
Once you enter you will find yourself in the kitchen/living room which are abundant in natural light thanks to the large windows on the front door.
The amazing granite countertop is the piece of resistance of this space. The layout of this living area is organized nicely, as you have plenty of space for kitchen work, but also for relaxing.
The narrow corridor leads to the bathroom, where there is a nice continuity in the color palettes that have been used in the interior décor. The beautiful glass tiles in the shower and the wooden cabinets under the sink make this place look truly elegant.
This house is one that has a downstairs bedroom, big enough for 2 people and has plenty of storage space thanks to the inbuilt closets. Such a nice and cozy tiny home for someone who is looking to invest in a vacation home.
1 Bed · 1 Bath · 399 SqFt