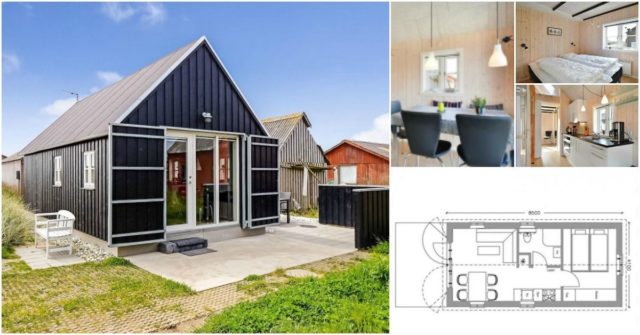 Danes are world-renowned with their minimalistic design, fine lines, and clean elements. On the shores of Jutland, Denmark the coast is lined with cabins that have been used by fishermen to store their tools. But now, most of the cabins are empty and many Danes have transformed them into vacation homes.
This tiny fisherman's shed is among these cabins and has been beautifully transformed into the nicest tiny house one can imagine. The cabin has a small outdoor area attached to it where you can have breakfast or dinner on a warm summer day and then rest inside. Thanks to its tall ceiling, the house looks more spacious than it might seem at a first glance and the natural pine wood that covers the walls make everything look brighter.
The diner has a long bench perfect for buffet meals and the kitchen is fully equipped so you can enjoy the comfort of a city apartment. The cabin also has a bedroom and a loft, also used for sleeping and can host up to 4 persons.
The wooden outside of the cabin blends in perfectly with the scenery, making this the perfect weekend or summer getaway for those who want to leave the noise of the city behind.