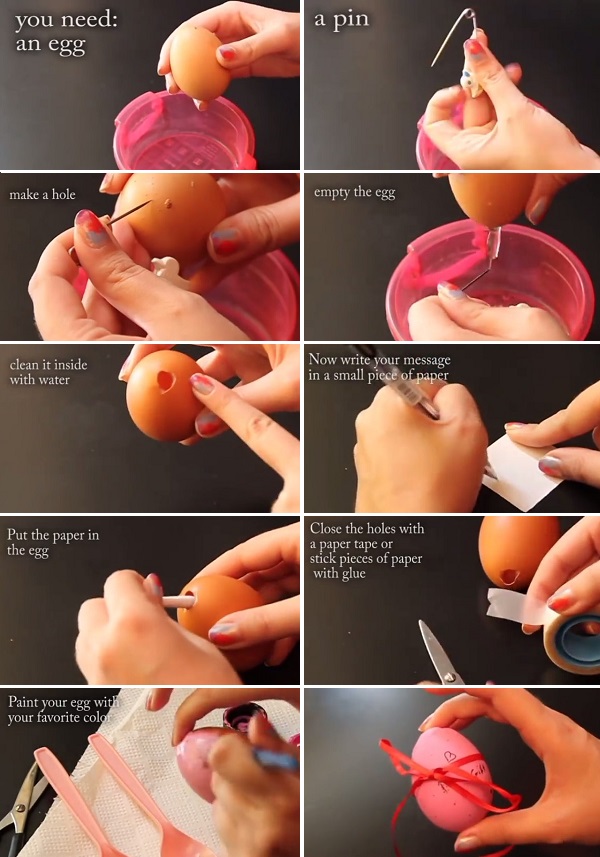 You can't find a considerate gift you can give to your loved one? The search is over, because we have this creative idea you can implement in a matter of minutes. Here is how you can make a love message in an egg. First, grab the following items:
an egg;
a pin;
a small piece of paper;
transparent tape;
a pair of scissors;
a plastic spoon;
a marker;
paper towel;
(optional) ribbon;
Now, make a hole in the egg with the pin and empty the contents. This will take some minutes, but you could make another hole at the other end to make the job a lot easier and faster. Then, gently water it on the inside. Afterward simply write your message on a rectangular piece of paper and wrap it. Meanwhile, the egg should have dried a bit. Next, put the message inside the egg and use transparent tape to shut the hole(s) off.
Put a piece of paper towel on the table and paint the entire egg in the color you like. Use a plastic spoon for support when leaving the egg to dry. You can make some extra decorations: draw some interesting design with a marker. Additionally wrap it in a ribbon bow. Done! Also, you can watch in the link below this video tutorial..