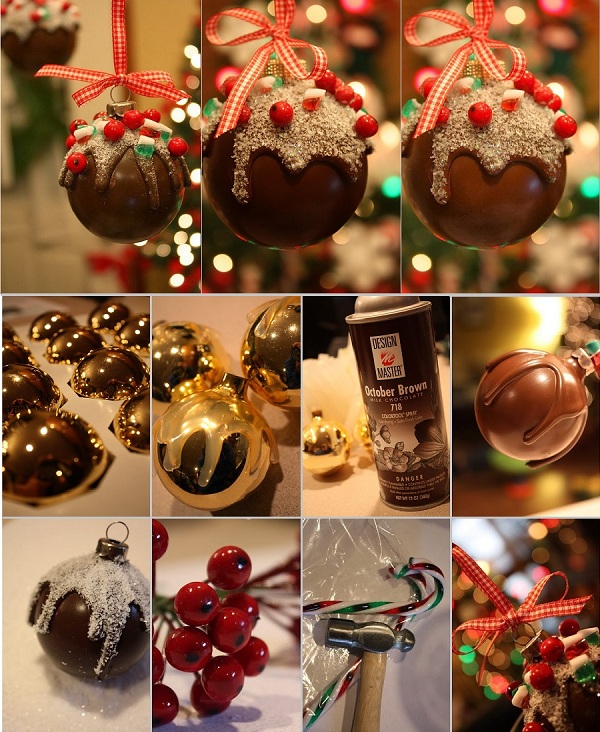 Making a Chocolate Candy Ornament is one thing that should make your holiday a bit more tasteful. Even though this DIY project is not edible, it will still look awesome hanging from the window or even in the Christmas tree. The process is fairly easy but you have to pay attention to the instructions written here.
• glass ball ornaments;
• hot glue gun;
• no.2 pencils;
• chocolate brown paint;
• Mod Podge;
• glitter;
• little red crafty berries and plastic peppermint sticks;
• a ribbon and bow for extra decoration;
First, take a box of glass ball ornaments. You can even take a box of some you think are outdated and want to give them a fresh new look. The next step is to remove the top metal of the globe and insert a stick (or a pencil with the eraser side down) in it to hold it in place. Now take the glue gun and pour along the top, letting it run smoothly around the entire globe in order to get a shape like the one in the images.
Leave them to cool. Now find the perfect shade of brown that looks like chocolate and paint the whole globe. When it has dried enough, use Mod Podge to cover only the `melted` area and sprinkle some sugar looking glitter on it. Continue decorating by crushing little red crafty berries and plastic peppermint sticks for the top of your chocolate ornament. You do this in a random pattern with the help of some glue. Finish by adding a little ribbon string and bow. Most delicious!