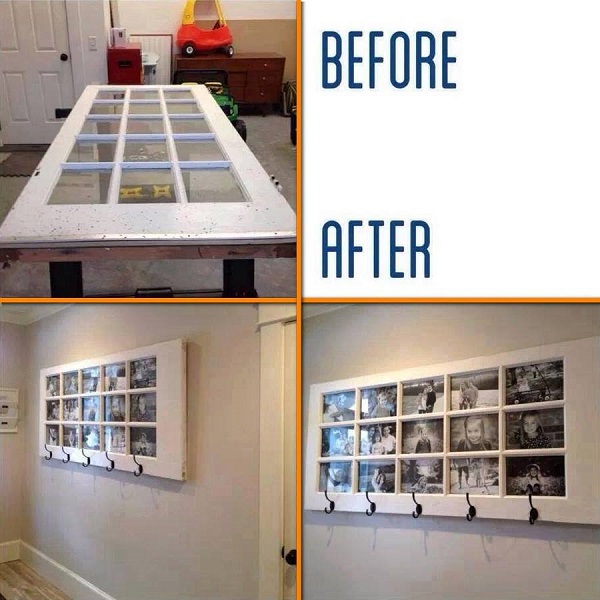 If you were looking for a way to improve your interior design and to impress guests and friends from the moment they walk in your home, then this webpage is exactly what you need. Turning your French door into a coat rack and photo frame is a bold statement that you embrace the DIY methods and are keen on beautifying your residence. Perfect for entry hallways and a creative medium for photos, making a door hanged on the wall will need the following:
an unused French door;
a few metal decorative (coat) hooks;
a roll of transparent tape;
screws;
paint remover;
a bristled paint brush;
a scrubbing brush;
a scrapper;
steel wool;
paper towels;
wood stain;
paint;
Begin with refreshing the door. Apply paint remover with the bristled brush for half an hour and let it rest for another half. Then scrub off all of the old stain with the scrubbing brush. Maybe use a scrapper – in a gentle way though – to remove the paint remover! Take a steel wool, wet it, scrub away any residue and dry with the paper towels. Leave it to dry for some 10 minutes before apply the stain or preferred color into the direction of the grain. But if you want to leave the old style and patina of the door, skip over this step and go straight to drilling the coat hooks into the side. One thing you might check beforehand: the door is clean and there is no knob on its surface. Select your favorite photos or quotes for that matter and use some transparent tape to stick them behind the glass. Screw the door to the wall and you're done. It looks great! Found it on Facebook.