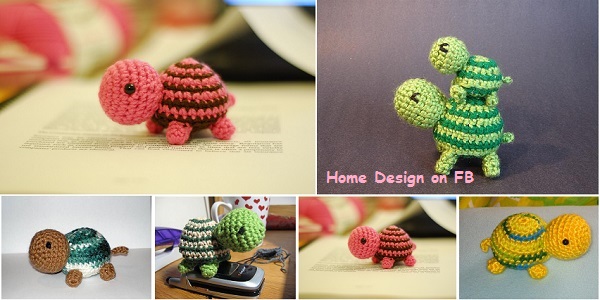 Making toys doesn't have to be an industrial and personality-less process. The DIY enthusiasts around the globe are supplying the world with unique and lively toys made entirely by hand. Crocheting has been around for quite some time and it's kind of funny how we rediscover it in the most technological of epochs. If you too wish to gift someone (or even yourself!) a cute and impressive toy, here is how to make a Crochet Turtle Toy. Grab the following materials:
• fiberfill;
• some small amounts of worsted/-weight yarn;
• a safety pin or a stitch marker;
• a few buttons (to use as eyes);
• an F hook;
You can fashion the turtles in any colors and sizes you want. From a pair of parent and child to a sleek and cool teen turtle, your imagination is the limit. Start with crocheting the shell and move on to the head, legs (4 in total) and tail. Also, make sure you have some stuffing because the head of your turtle toy will need it. For the shell, this project requires two colors of yarn, so plan ahead. The buttons can be used to mimic the eyes of the turtle. All in all, this is going to result in a cute toy! Check out the exact stitches you will need to crochet at this site kristieskids.weebly.com. A copy of this pattern is also available on the Crochetville forum.
Find it HERE…